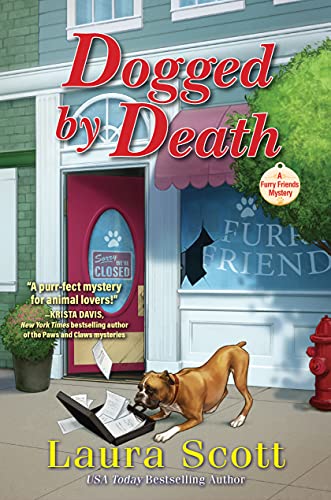 Dogged by Death
Ally Winter is starting all over again, this time in Willow Bluffs, WI. She is giving up men, giving up the hectic city life, and choosing the peace and quiet of a small lakeside town. She's taking over an animal clinic, but building up enough business to pay bills and put food on the table may prove challenging.
But Willow Bluffs turns out to be hardly the peaceful haven she expected. She discovers a murder victim, Marty Shawlin, an investment consultant. Ally takes Marty's dog into her protection, and then with the help of her  grandfather, Oscar Winter, begin to solve the murder. He and Ally, much to the chagrin of Detective Noah Jorgenson, appear to be one or two steps ahead of the police. But are they too far ahead? Will Ally end up a murder victim herself, or will "her detective" Noah come to her rescue?
Laura Scott is a talented and prolific author. I found her writing style to be easy to read, her plot well-constructed, and her story interesting. Her characters are believable, though I kept hoping there would be more of a spark of romance between Ally and Noah. I am hopeful that subsequent books in the series will develop this relationship. If you want fun reads and well-designed cozy mysteries, you won't go wrong with Laura Scott's stories.