June, 2015 – Edition 2
Today's Specials
Drug cartels…legalized marijuana…quaint towns in old Mexico…a mysterious woman from MacFarland's past. All of these await Mark MacFarland in the Desperate Druggie. Despite his better judgment, MacFarland commits to help one of the largest pot dealers in Colorado rescue his kidnapped daughter from a notorious drug cartel in Mexico.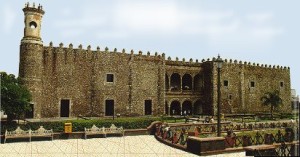 Palace of Cortes, Cuernavaca, Mexico
(Picture by Paliano on Wikipedia.org)
MacFarland has to set aside his usual biases against drug users, the legalization of pot in Colorado, and the people who use pot in order to rescue a young woman from a horrible fate. In the process, he earns the enmity of one of the most powerful men in Mexico. But MacFarland has a long history of putting his personal feelings aside when the greater good is involved. Join him in Mexico as he and a ragtag band of aging Mexican police battle the better armed and far more dangerous Los Zetas cartel.
But things get even more complicated for MacFarland when his former girlfriend comes from Mexico to Denver…and meets Cynthia Pierson.
You can get Desperate Druggie on Amazon or Smashwords.
On the Condiments Tray
Cuernavaca, the "City of Eternal Spring," is one of the places in the world that it has been my fortune to visit. The city is fascinating, from a historical and a cultural perspective. Cuernavaca is the destination for a great many high school and college students who want to study Spanish. The numerous language study programs based out of Cuernavaca offer the student an opportunity to live with an actual family, speaking Spanish twenty-four hours a day. Located about an hour's drive south of Mexico City, the city of Cuernavaca is easy to get to. Places I would recommend seeing: The Palace of Cortex (pictured above); the Plaza de Armas; the Casa de Barbara Hutton (Camino Real Sumiya), where movie star Barbara Hutton lived; the Brady Museum (near the Cathedral of Cuernavaca), and the Zocalo de Cuernavaca. There are also ruins near the city that are quite spectacular. The open markets and mercados are always a treat.
Back in 2010, Cuernavaca wasn't so peaceful. During that year, a brutal battle for control over one of the country's cartels waged on the streets of the quiet city. Over fifty people were killed. Needless to say, the social climate is quite different now.
The presence of the Los Gatos Cartel in Cuernavaca is merely a fictional ploy I use in Desperate Druggie. While Los Gatos do operate along the Gulf Coast of Mexico, there is little activity as far inland as Cuernavaca.
So, go visit Cuernavaca. And if you get a chance, go to Taxco and buy some silver jewelry.
And, of course, practice your Spanish while you are there! (And if your Spanish is as rusty as mine was, never fear. There are a great many English-speaking people in the hotels and restaurants and shops.)
Mathiya Adams – A Girl of Mystery
There are three new developments in my writing life. The first development is that I have been asked to write Guest Blogs by two different individuals. The first person to ask me to contribute to her blog is my editor, Tara Maya. She has asked me to write one to four blogs on "how to write mysteries." This should be as much a learning experience for me as an attempt to educate other would-be mystery writers. The blogs should be on Tara Maya's web page Tara Maya's Tales, sometime in September.
The second request comes from the Rocky Mountain Fiction Writer's group (rmfw.org) for their July timeframe. More details as I get them!
The other development is a longer-term change in my writing direction. I am currently working on book eight in the Hot Dog Series (The Harried Hairdresser), so I still have a long ways to go before I am finished with Mark MacFarland. But I have been considering work on a second series of cozy mysteries, more along the idea of fantasy mysteries. The series will be called the Pit Bull Chihuahua Series, and involves a handsome young stud named Troy Lewis, whose life is turned upside down when a wizard turns him into a dog. Troy can't retrieve his human form until he has succeeded in recapturing all the animals of the Pasadena City Zoo, who have escaped. The problem is, the animals are now in human form!
The Pit Bull Chihuahua series promises to be a fun romp through Southern California, with plenty of mysteries for Troy and his team of human partners to solve.
Contact Me!
You can friend me on Facebook or contact me on Twitter or email me: mathiya.adams@gmail.com.
I also have a Blog so please stop by and let's chat!
Please leave comments and reviews!
In the course of writing a series of what ultimately will be twenty-six books, it is possible to get things mixed up, forget details, or just make mistakes. While I have a very sensitive soul, I have learned that one needs to be able to take criticism, feedback, and suggestions for improvement. If you have any of these, please feel free to contact me directly at Mathiya.Adams@gmail.com I look forward to your comments.
Remember, if you loved any of my books, please consider leaving reviews of them on book sites like Amazon and Smashwords. It doesn't have to be complicated, even just a few lines is wonderful. I am so grateful to all of you who have already posted your reviews.
The Avid Angler
Book 1 of The Hot Dog Detective: Detective MacFarland — "Mac" to his friends — is approached by a high-priced lawyer to help prove a woman innocent. A fishing buff has been found murdered and the wife is the prime suspect. With the evidence stacked against her, and someone destroying evidence, can MacFarland find the real killer and free the innocent woman?
The Busty Ballbreaker
Book 2 of The Hot Dog Detective: Detective MacFarland is suspicious when a young construction worker, Wanda Warren, approaches him with a tale of conspiracy, fraud, and murder. A friend of hers died in a tragic work accident, but she thinks that there is more to the story than workplace tragedy. She thinks he was killed to keep him quiet. Something is not right at the construction site just down the block from him. The question for MacFarland is, how many more people are going to get killed before he finds the person behind the conspiracy that Wanda has uncovered?
The Crying Camper
Book 3 of The Hot Dog Detective: A homeless teenager gets a second chance, working as a counselor in a summer camp for runaway kids. The only problem is, the kids keep going missing. Are they running away, getting placed in foster homes…or getting killed? Will MacFarland be able to rescue the homeless waifs or will more children turn up dead?
The Desperate Druggie
Book 4 of The Hot Dog Detective: MacFarland is off to Mexico!
MacFarland is old school when it comes to legalized marijuana. But when it comes to the daughter of the owner of legalized pot stores getting kidnapped, he is ready to run off to Mexico to rescue her. Unfortunately, rescuing the young woman does not prove to be easy. First, someone has followed him to Mexico and is trying to kill him. Second, he has to confront one of the most powerful cartel leaders in Mexico. And third, he has to deal with Calida Delgado, a beautiful and fiercely independent woman he once had an affair with. Will MacFarland be able to rescue the pot dealer's daughter or will he fall victim to one or more of the three obstacles he encounters in sunny Mexico?