Book 1 of The Hot Dog Detective: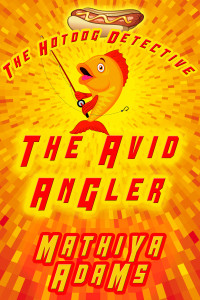 Former Detective MacFarland — "Mac" to his friends — is getting his life together after years of living on the streets.  When he is approached by a high-priced lawyer to help prove a woman innocent, he has to consider if he wants to get back into solving crimes. But the case fascinates him.
A fishing buff has been found murdered and the wife is the prime suspect. With the evidence stacked against her, and someone destroying evidence, can MacFarland find the real killer and free the innocent woman?
This is the first of twenty-seven books in the Hot Dog Detective series. Follow Mark MacFarland's adventures as he redefines who he is.
Get The Avid Angler on these popular sites:
If you would like a PDF copy of this book, please email me at mathiya.adams@gmail.com and ask me to send you a link to the file.